Nashville Weight Loss Services
Medical Weight Loss
There are countless health risks associated with being overweight. Coronary heart disease, high blood pressure, and diabetes are just a few of the many risk factors associated with obesity. Recent studies show that upwards of 70% of the population is overweight, and Nashville, TN ranks in the top 10% for overweight persons per capita. 61Five Health & Wellness aims to improve these statistics and support the health and longevity of the Nashville community.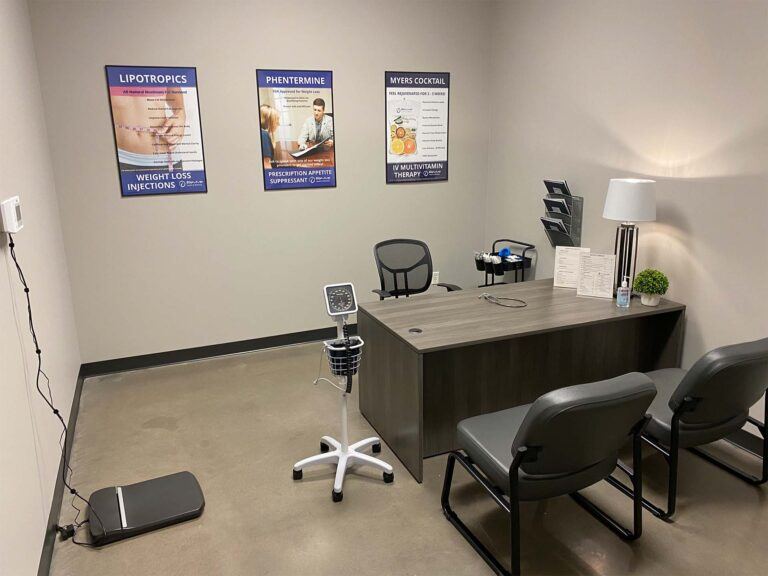 The 61Five Difference
61Five Health & Wellness in Nashville specializes in long-term medical weight loss and maintenance. 61Five's board-certified nurse practitioners have been successfully assisting patients in reaching and maintaining weight reduction since 2015. Our providers work with each patient to provide them with an individualized treatment plan. We recognize that providing realistic weight loss goals without drastically changing a patient's lifestyle is what ultimately drives successful long-term weight loss. With the aid of FDA-approved weight loss medications, fat-burning injections, and patient-specific education, 61Five can help you to achieve your weight loss goals.
What Our Customers Have to Say
" I've been going to iRevive for two months now and absolutely love it. The staff is so nice and knowledgable and they take the time to answer all the questions I have. I always present as a walk-in and get in quickly with hardly any wait at all. I've lost weight using the injections and medication that I hadn't been able to lose with change in diet and exercise. I am SO happy with the services that iRevive provides and would recommend theIm to anyone!"
"I went to 61Five because I needed to lose weight fast but I'm so busy with work, family and school that I can't go to the gym. I hadn't tried the phentermine or injections but was very interested in them so I decided to go to 61Five and I'm so glad that I did. I've lost 3lbs a week since starting with no changes! I get excited to step on the scale now!! You need to go in and try the max weight lose program it's amazing!!"
Weight Loss in Nashville and Franklin, TN
High quality, affordable weight loss products and exceptional customer service are why our patients have made 61Five the leading weight loss provider in Nashville, TN. When beginning one of our programs, all services, including your initial weight loss evaluations, return visits, and nutritional counseling, are included with our products free of charge. We strive to make your weight loss journey less stressful and do not require any upfront fees or contracts.
Our practitioners and weight loss specialists work closely with our patients to guarantee success. We find it personally rewarding to see seemingly unimaginable weight loss milestones met. At 61Five, we are also committed to addressing any questions or concerns a patient may have while on the program by phone or email. We look forward to providing the individual tools needed to reach weight loss goals while helping patients take control of their overall health. Our programs are overseen by Dr. Moses Swauncy, MD.
Small changes can make a big difference.