The Dangers of Diabetes
Millions of Americans are diagnosed yearly with type 2 diabetes mellitus, a chronic disease most often associated with Obesity. The percentage of those diagnosed with diabetes each year continues to trend upward. What many people fail to realize is that type 2 diabetes is preventable as well as reversible. Are you one of the many who are at risk for developing diabetes?
Type 2 Diabetes Mellitus is a metabolic disorder characterized by high blood sugar in the context of insulin resistance. Risk factors contributing to the diagnosis are a body mass index (BMI) that is greater than 25, poor diet, stress, consumption of high calorie drinks, and urbanization. Symptoms most often associated with diabetes are frequent urination, increased thirst, blurred vision, vaginal infections in women, and fatigue.
Since type 2 diabetes is potentially reversible, the first plan of action with diagnosis should be lifestyle moderation. Improving ones diet and increasing their level of physical activity can drastically reverse the onset and symptoms associated with diabetes. The diagnosis of diabetes is often a wake up call to those individuals at increased risk. When diabetes can not be controlled by lifestyle modification, medication therapy is most often initiated within six months of diagnosis.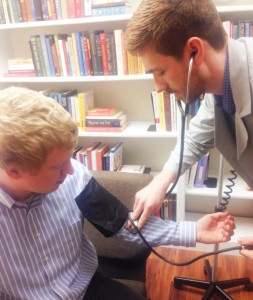 Regulating the blood sugar is extremely important to avoid daily side effects and long term complications that may coexist with diabetes. Potentially long term complications of uncontrolled diabetes are heart disease, stroke, diabetic retinopathy (eye disease), kidney failure, circulatory complications and premature death.
With the population's increase in obesity, it is important that we recognize and attempt to avoid modifiable risk factors associated with diabetes. The diagnosis of diabetes does not have to be accepted, we can take back control of our lives!
Click here to see if you are at risk for developing diabetes
The Nashville weight loss specialists at 61Five provide the tools individuals need to dramatically decrease the chances of developing Type 2 Diabetes. Contact Us today to see how 61Five can help you get your health back on track.