61Five is making Nashville IV Services more convenient and affordable than ever before!
61Five's licensed medical practitioners, specializing in IV hydration infusions, are now making treatment more accessible to the Nashville community. The beneficial effects of IV hydration therapy are endless. Multivitamin infusions help assist in reversing undesirable symptoms associated with aging and illness related dehydration. Our spa-like atmosphere, walk-in accommodation, patient friendly hours, and affordable IV services are just a few of the many reasons Nashville is choosing 61Five. Our licensed practitioners evaluate and individualize infusions to your specific needs. We offer a variety of IV infusions beneficial for:
Fatigue
Migraines
Fibromyalgia
Crohn's/IBS
Gastroenteritis
Jet-Lag
Sports Fatigue/Training
Malabsorption due to Gastric Bypass
Illness related Dehydration
Vitamin Deficiency
Menstrual Cramps
And many other acute/chronic conditions
Introducing In-Home IV Recovery
In home IV hydration is now available, through 61Five, 7 days a week. We will be continuing our in-clinic infusions during regular hours, with home infusions now available outside regular hours. There are many patients, with various needs, benefiting from our variety of IV infusions.
61Five Customer Interview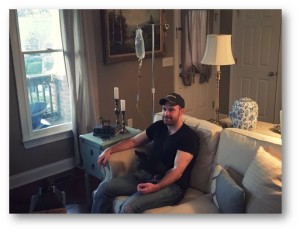 We recently met Jake who received one of our in-home infusions. At 61Five, we are always welcoming feedback from our patients, and Jake was no exception.
61Five: What symptoms were you experiencing that made you reach out and request one of our infusions?
Jake: "I think the holidays just got to me, I mean, it was go go go for awhile. I have been feeling dehydrated and just plain worn down."
61Five: Why did you chose 61Five for your treatment?
Jake: "I recently moved to Nashville from LA. When I lived in LA I would occasionally get a multivitamin infusion when I felt dehydrated and worn down. I found a couple of Nashville IV hydration services but you guys were the only ones who offered the Myers Cocktail multivitamin infusion. Let's be honest too, the cost of your infusions are extremely inexpensive in comparison."
61Five: Is there any part of our service that we could improve?
Jake: "I really have no suggestions. I am grateful you guys are available 7 days a week and were able to come out to my house within 30 minutes of me calling. The multivitamin infusions make me feel great afterwards, finding you guys has really made my day."
The 61Five Difference
At 61Five, we are more than just another medical service. Our practitioners find it personally rewarding to better the health and well-being of the Nashville community, while providing patient affordable services. Patients can make same day appointments on our 61Five booking website, by calling our clinic at 615.401.9380, or by simply walking in.  If requesting an IV infusion outside regular clinic hours, patients can text or call 305.290.4881.
Please see our full list of IV Hydration Products and Services here